¿Quién está en línea?
En total hay
0
usuarios en línea: 0 Registrados, 0 Ocultos y 0 Invitado :: 1 Motor de búsqueda
Ninguno
La mayor cantidad de usuarios en línea fue
81
el Lun 01 Ene 2018, 7:57 pm.
0.1 No Place Like Oz
After returning to Kansas, Dorothy Gale has realized that the dreary fields of Kansas don't compare to the vibrant landscapes of Oz. And although she's happy to be reunited with Aunt Em, she misses her friends from the yellow brick road. But most of all, Dorothy misses the fame and the adventure. In Kansas she's just another prairie girl, but in Oz she was a hero. So Dorothy is willing to do anything to get back, because there really is no place like Oz. But returning to the land she left comes at a price, and after Dorothy is through with it, Oz will never be the same.

0.2 The Witch Must Burn
Dorothy Gale is back . . . and she's not the sweet little heroine of Oz anymore. She's power-hungry and vicious, and she leaves a trail of destruction beneath her spike-heeled, magical shoes. But behind the scenes, there's someone else pulling the strings. Someone who doesn't want fame or glory—just control.

Glinda of the North brought Dorothy back to Oz for a reason. And in The Witch Must Burn, a young maid is about to discover that a witch who says she's Good might be the most dangerous kind of Wicked.

1. Dorothy Must Die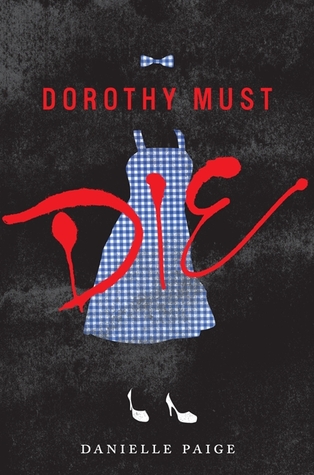 I didn't ask for any of this. I didn't ask to be some kind of hero.

But when your whole life gets swept up by a tornado—taking you with it—you have no choice but to go along, you know?

Sure, I've read the books. I've seen the movies. I know the song about the rainbow and the happy little blue birds. But I never expected Oz to look like this. To be a place where Good Witches can't be trusted, Wicked Witches may just be the good guys, and winged monkeys can be executed for acts of rebellion. There's still the yellow brick road, though—but even that's crumbling.

What happened? Dorothy.

They say she found a way to come back to Oz. They say she seized power and the power went to her head. And now no one is safe.

My name is Amy Gumm—and I'm the other girl from Kansas.

I've been recruited by the Revolutionary Order of the Wicked, and I've been given a mission:

REMOVE
The Tin Woodman's heart,

STEAL
The Scarecrow's brain,

TAKE
The Lion's courage,

And then—

DOROTHY MUST DIE.

2. The Wicked Will Rise
To make Oz a free land again, Amy Gumm was given a mission: remove the Tin Woodman's heart, steal the Scarecrow's brain, take the Lion's courage, and then Dorothy must die....

But Dorothy still lives. Now the Revolutionary Order of the Wicked has vanished, and mysterious Princess Ozma might be Amy's only ally. As Amy learns the truth about her mission, she realizes that she's only just scratched the surface of Oz's past—and that Kansas, the home she couldn't wait to leave behind, may also be in danger. In a place where the line between good and evil shifts with just a strong gust of wind, who can Amy trust—and who is really Wicked?

"Deberás comentar, para así el corazón poder destapar"
Sobre mí

Fecha de inscripción

: 28/06/2012


Para más información
---
Permisos de este foro:
No puedes
responder a temas en este foro.